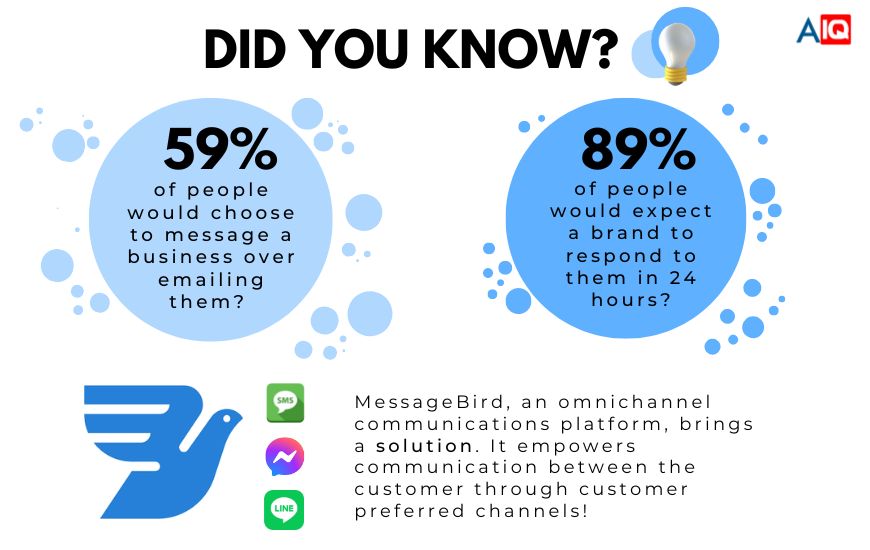 MessageBird Blog post for AIQ website
Introduction
Did you know that 59% of people would choose to message a business over emailing them? Or that 89% of people would expect a brand to respond to them in 24 hours? MessageBird, an omnichannel communications platform, brings a solution. MessageBird empowers communication between the customer through the preferred means of communication of the customer. MessageBird does this by uniting applications of communication such as Messenger, WeChat, Line, SMS, etc.
AiQ
Audience IQ (AiQ) utilizes MessageBird to help improve the customer experience by simplifying the means of communication. This prevents customers from having to be held in hold angrily. MessageBird integrates apps such as LINE, Thailand's leading chat platform, where they can get into contact with 84% of Thai internet users.
MessageBird can function for a variety of purposes including rapid engagement, automation with bots, and connectivity. Rapid engagement as messages can be directly passed to the sales team, of a brand, in a matter of moments. Automation with bots can identify the wants and needs of the customer to be suited to a salesperson. Lastly, connectivity, as MessageBird can fuse applications of communication to one.
Setting up MessageBird is easy as you only have to sign in with all the different applications of communication: Line, Messenger, WeChat, etc. Once you have signed up, you would be able to receive all the messages from these different applications to MessageBird. MessageBird has auto translation in case of language barriers between the customer and brand, integrated NPS scoring, and it can tag messages to the best-suited agents. Furthermore, MessageBird allows the agent to view the status of the customer whether they are online at the moment or not. AiQ takes full advantage of the capabilities of MessageBird to enhance the customer experience. If the customer prefers to message through Messenger or Line, it won't matter as all the messages will be received through MessageBird.
AiQ incorporates MessageBird as a system used by their agents to better reach out to their future and present clientele with the hope of retention. Along with MessageBird, AiQ uses CleverTap, a Saas-based customer engagement platform, to get analytical data about their customers. Both applications coherently work together to maximize the B2C and B2B efficiency. By contacting the customer through MessageBird, the agent is able to receive data regarding the status of their customers and whether they are online or offline. Additionally, they can view the probability of retention of a customer and how likely they are of coming back for business or not.
MessageBird, by all means, is an application that improves the B2B and B2C experience with its advanced capabilities. Audience IQ profits from this application as it has helped them gain retention from customers.