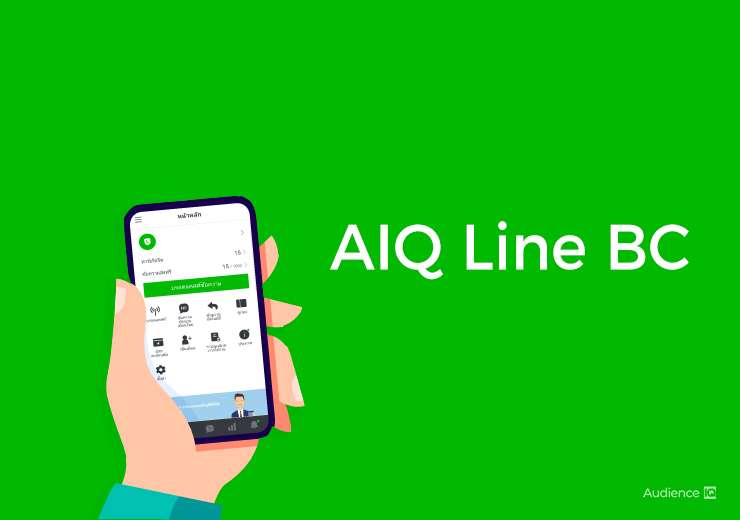 How to Tap Into Line's Audience Without a Large CRM Platform (or Budget)
INTRODUCTION
Over the last few years, Line has brought out some really exciting products to help marketers reach its enormous audience of Thai consumers – over 45 million and counting.
The challenge for many companies though, is that they need their own sophisticated CRM system to take advantage of this access to Line customers.
Audience iQ is changing that with the launch of its proprietary AiQ Line BC platform. This is the only tool in Thailand that enables marketers to merge their existing customer data with their customer's Line data, turning it into a powerful CRM and Loyalty Platform.
At a fraction of the cost of other CRM platforms on the market.
What is Line Business Connect?

Line Business Connect allows a brand to collect data about Line users who connect with the brand's Line Official Account: including the LineID
While this is an amazing feature for marketers, you will need a CRM system to store the ID and to merge any other customer data
Line offers a CRM tool to enable this – but the cost is 1,200,000 THB per year.
How Can AiQ Line BC Help Marketers in Thailand?

1. Cost-Effective
AiQ Line BC provides a powerful tool that can be used by SMEs and large brands alike. It is designed specifically for use with Line Business Connect. And it is much cheaper than using Line's own CRM tool
2. Merge More User Data
AiQ Line BC supports brands to merge their own customer data with Line customer data and use that together in Line campaigns. This means more advanced audience segmentation is possible
3. Built in Loyalty Program and Chat Features
AiQ Line BC tools include additional features like Loyalty Program tools. Line users can receive and redeem coupons with Unique Barcodes. AiQ Line BC means Marketing teams can use the Line Account for Live Chat
Contact AiQ Now To Get a Quote

Audience iQ will open up this tool on a limited basis to companies on a first-come, first-served basis. Although the tool is available at scale, we want to make sure our key customers get first-class support and training.
Like all Audience iQ products. AiQ Line Business Connect is focused on ROI. We know this tool will drive sales and we are ready to help you launch this immediately.
For more information contact: russ.c@audience-iq.com
To Download the AiQ Line BC Product deck, Click Here